Your miracle awaits…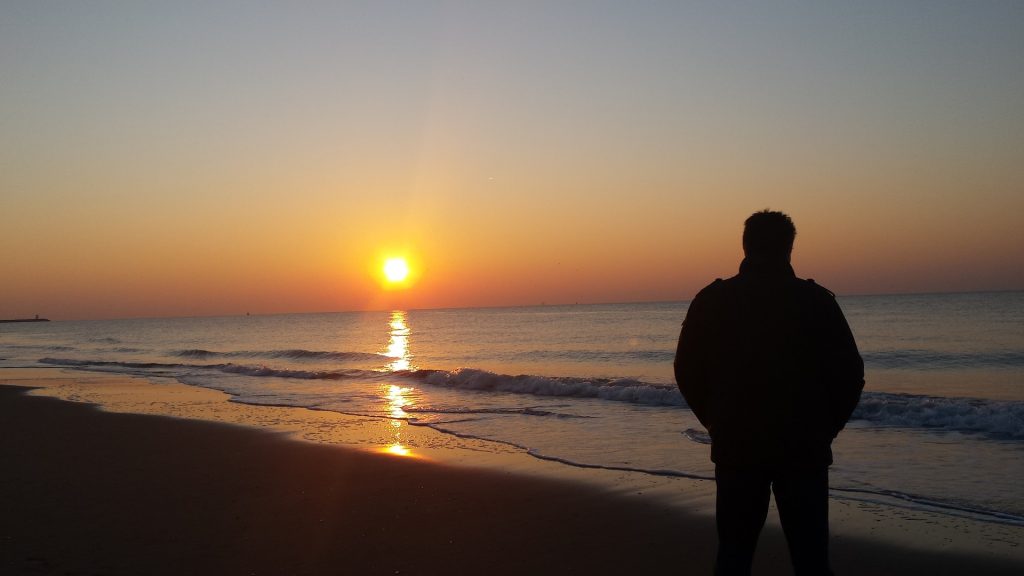 Sometimes, you hope for those walk on water moments. I mean, just a few seconds where everything in life, everything you attempt, everything you do seems supernatural. And, there is no doubt that God is with you. I had one of those days yesterday. It seemed as though everything, well, a lot of things, were falling into place. So, I prayed for another day like that today.
What I failed to consider, however, is that the supernatural doesn't happen if I don't move. If I stay stagnant or become complacent, nothing will happen. In Matthew 14:22-32 we read of the thrilling adventure Peter had when he began to walk on water toward Jesus. But before he could do that, he had to be properly positioned for the request to even be granted.
Think about it. Jesus had sent the disciples on ahead of him in the boat after an already miraculous day of feeding the five thousand. They were already out in the water, a good distance from shore. How did they get so far out? Matthew 14:24 says they were out "a considerable distance from land, buffeted by waves" because the wind was against the boat. Sometimes, we have the wind at our backs pushing us along, carrying us further toward victory and greatness and the opportunity to witness and be a part of a new miracle. Jesus places us in miracle territory, just like He did the disciples. But miracle territory isn't easy is it. The waves are rough in miracle territory. The waters are choppy in miracle territory. The winds are terrifyingly strong in miracle territory.
But let me tell you what I love about Jesus. Peter asks to come to Him on the water if it's Jesus and Jesus says "Come."
There's so much food here. First of all, Peter says, "if it's you." When we are out in miracle territory, doubt is a constant friend. Even in the midst of all the glorious things that are happening, we question God's presence in our lives. But God is not offended. Even though doubt is present, faith is not far behind. Even if it's just a mustard seed's worth, we still must act on it.
So, Peter asks to come to Jesus on the water. And Jesus says, "come." Even through our doubts and fears, Jesus guides us to His side. Like Peter, we step out of the boat and begin to live our miracle. We begin to walk on water. But, also like Peter, we succumb to the winds of change. When anything happens to take our eyes off of Jesus, we become afraid. And we begin to sink. Our miracle begins to disappear.
But Jesus reaches out His hand and catches us…and challenges us. "You of little faith. Why did you doubt?"
Do I have an answer to that question? I don't know if I have an answer. But, like most people, I have an excuse or two or three. It's so easy to choose the safety of the boat or land when the fear of walking on water takes over. I don't have enough time. I don't have enough money. I don't have enough talent. What we fail to realise is that all of those are practically requirements for experiencing your very own miracle.
If we all have what it takes to do greatness on our own, what do we need Jesus for? If you want to venture out into miracle territory, you just have to obey the simplest of commands, "come." Understandably, simple doesn't mean easy. But Jesus doesn't promise easy.
"Have faith in God," Jesus answered. "Truly I tell you, if anyone says to this mountain, 'Go, throw yourself into the sea,' and does not doubt in their heart but believes that what they say will happen, it will be done for them. Therefore I tell you, whatever you ask for in prayer, believe that you have received it, and it will be yours." Mark 11:22-24 NIV
Okay. That does sound easy. Until I think about what Jesus means by prayer. He's not talking about the two minute toss up right before a major test. Nor is he talking about the desperate "gotta haves" when we covet the things of this world.
No. Miracle territory prayers are the kind that make your sweat look like drops of blood pouring down your face. Hour after hour, while your friends sleep in the room next door, you pour out your heart while on your knees before the creator of all mankind. Then, when you get up, you get up knowing that your miracle awaits.