About
About the Pastors 
Eddie & Shirlene Nunes are originally from Brazil, but they moved to the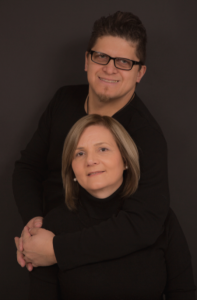 UK in August 2003 to work supporting churches in need. Eddie who was ordained as a full time pastor in 1994, is also a musician, song writer and worship leader. Shirlene is also a pastor and Administrator of the church. They have three children and three grandchildren. Gabriel, the oldest, 32, is married to Natalia and they have three children: Isabella, Manuela and Matteo. Gabriel is a musician/drummer and also a worship leader; Vanessa, 28, is married to Joshua Mitchell and they both are worship leaders and Youth pastors; and Gustavo, the youngest, 24, is married to Barbara. He is a musician, songwriter and worship leader and Barbara is an IT and Media worker. By God's grace, they are a family totally involved in God's ministry. In their life-time ministry, they have directed and planted churches and they have also worked as associate pastors in several churches with the purpose of strengthening specific ministries in local churches. From 2003 to 2005 they lived in London and worked at Living Bread Ministries. In 2005 they moved to Hemel Hempstead to work at New Life Pentecostal Church in this Town, where they served until October 2007. But in February 2008 God challenged them to set up a new ministry in the Town, which was when they planted Sunrise Church that recently celebrated its 10th anniversary.
"Samuel then took a large stone and placed it between the towns of Mizpah and Jeshanah. He named it Ebenezer (which means "the stone of help"), for he said, "Up to this point the Lord has helped us!" 1 Samuel 7:12 (NLT)
Church Values
People who purpose to live as the new creation God has made us, living out of the New Covenant that is based on the finished work of the cross.
People who refuse to be seated comfortably or 'stored', but rather embrace "Go" at every opportunity. Living passionately to make a difference in our households, local communities and further afield, to the ends of the earth.
People who purpose to walk forward from the first initial step of salvation into all that God has for us. Committed to not only reach people but also to teach people about all God has done for them. 
People who are not afraid to be passionate with their praise and intimate with worship; who love and hunger after the presence of God. 
People who seek to understand and apply God's unchanging Word and are resolved to never add to it nor take from it. 
A community diverse in culture and age who place great value on 'doing life together' and who don't just attend events. People committed to developing healthy relationships, believing these to be the cables that make our church strong. 
People who believe in the ministry of the Holy Spirit in this day, not just in the days of the Early Church. People who are empowered, equipped and led by the Holy Spirit in their daily lives. 
People who are committed to making Jesus and His Church attractive and accessible to all, without watering down the message we carry; innovative with the packaging of 'church' without compromising the content. 
People who are responsive to God and responsive to the needs of His people and of our community. 
People who display the generosity of God. Believing the Church to be the Household of God we look to have a culture of generosity that is manifested through passionate giving, loving and serving at every opportunity. 
People who place great value on giving honour to each other as we do life together. 
People who have a commitment to raising the next generation; who love to put the best of who we are into raising children and young people to know and serve God.