Our History
Sunrise Church was founded on 17th February 2008 in Hemel Hempstead by the Pastors, Eddie and Shirlene Nunes. Sunrise Church exists to offer every note and every song as a living, holy and pleasant sacrifice to our Lord and God. Our aim is to reach out to those who don't yet know God and help them find a relationship with their Creator. God has a great expectation for us. He is willing to bless us and equip us with everything He has for us, and He will never do it in any way, but it is a result of our intimacy with Him. His desire is to develop a good relationship with us, to reveal Himself to us in such a measure that we could live in a very high level of the Christian life.
About the Pastors 
Eddie & Shirlene Nunes are originally from Brazil, but they moved to the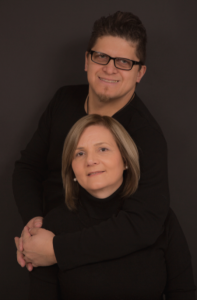 UK in August 2003 to work supporting churches in need. Eddie who was ordained as a full time pastor in 1994, is also a musician, song writer and worship leader. Shirlene is also a pastor and Administrator of the church. They have three children and three grandchildren. Gabriel, the oldest, 32, is married to Natalia and they have three children: Isabella, Manuela and Matteo. Gabriel is a musician/drummer and also a worship leader; Vanessa, 28, is married to Joshua Mitchell and they both are worship leaders and Youth pastors; and Gustavo, the youngest, 24, is married to Barbara. He is a musician, songwriter and worship leader and Barbara is an IT and Media worker. By God's grace, they are a family totally involved in God's ministry. In their life-time ministry, they have directed and planted churches and they have also worked as associate pastors in several churches with the purpose of strengthening specific ministries in local churches. From 2003 to 2005 they lived in London and worked at Living Bread Ministries. In 2005 they moved to Hemel Hempstead to work at New Life Pentecostal Church in this Town, where they served until October 2007. But in February 2008 God challenged them to set up a new ministry in the Town, which was when they planted Sunrise Church that recently celebrated its 10th anniversary.
"Samuel then took a large stone and placed it between the towns of Mizpah and Jeshanah. He named it Ebenezer (which means "the stone of help"), for he said, "Up to this point the Lord has helped us!" 1 Samuel 7:12 (NLT)